HORARIOS
PLANTILLA HORARIOS EN PDF (+plano + info adicional)
PROGRAMACIÓN CENTRAL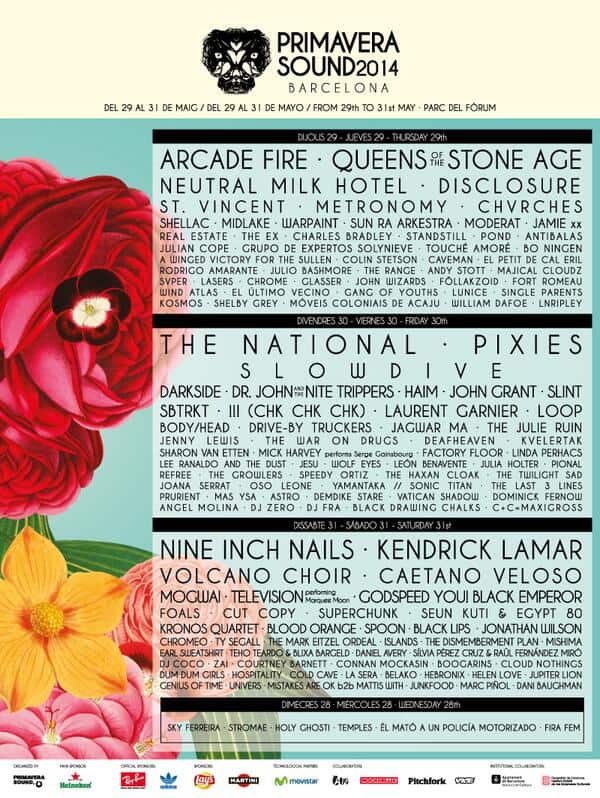 JUEVES 29:
Arcade Fire, Queens Of The Stone Age, Neutral Milk Hotel, Disclosure, St. Vincent, Metronomy, Chvrches, Shellac, Midlake, Warpaint, Sun Ra Arkestra, Moderat, Jamie xx, Real Estate, the Ex, Charles Bradley, Standstill, Pond, Antibalas, Julian Cope, Grupo De Expertos Solynieve, Touché Amoré, Bo Ningen, a Winged Victory For The Sullen, Colin Stetson, Caveman, El Petit De Cal Eril, Rodrigo Amarante, Julio Bashmore, the Range, Andy Stott, Majical Cloudz, Svper, Lasers, Chrome, Glasser, John Wizards, Föllakzoid, Fort Romeau, Wind Atlas, El Último Vecino, Gang Of Youths, Lunice, Single Parents, Kosmos, Shelby Grey, Móveis Coloniais de Acaju, William Dafoe, LNripley.
VIERNES 30:
The National, Pixies, Slowdive, Darkside, Dr. John And The Night Trippers, HAIM, John Grant, Slint, SBTRKT, !!!, Laurent Garnier, Loop, Body/Head, Drive-By Truckers, Jagwar Ma, the Julie Ruin, Jenny Lewis, the War On Drugs, Deafheaven, Kvelertak, Sharon Van Etten, Mick Harvey performs Serge Gainsbourg, Factory Floor, Linda Perhacs, Lee Ranaldo And The Dust, Jesu, Wolf Eyes, León Benavente, Julia Holter, Pional, Refree, the Growlers, Speedy Ortiz, the Haxan Cloak, the Twilight Sad, Joana Serrat, Oso Leone, Yamantaka // Sonic Titan, the Last 3 Lines, Prurient, Mas Ysa, Astro, Demdike Stare, Vatican Shadow, Dominick Fernow, Angel Molina, DJ Zero, DJ Fra, Black Drawing Checks, C+C=Maxigross.
SÁBADO 31:
Nine Inch Nails, Kendrick Lamar, Volcano Choir, Caetano Veloso, Mogwai, Television performing Marquee Moon, Godspeed You! Black Emperor, Foals, Cut Copy, Superchunk, Seun Kuti & Egypt 80, Kronos Quartet, Blood Orange, Spoon, Black Lips, Jonathan Wilson, Chromeo, Ty Segall, the Mark Eitzel Ordeal, Islands, the Dismemberment Plan, Mishima, Earl Sweatshirt, Teho Teardo & Blixa Bargeld, Daniel Avery, Sílvia Pérez Cruz & Raül Fernández, DJ Coco, Zai, Courtney Barnett, Connan Mockasin, Boogarins, Cloud Nothings, Dum Dum Girls, Hospitality, Cold Cave, La Sera, Belako, Hebronix, Helen Love, Jupiter Lion, Genius Of Time, Univers, Mistakes Are Ok b2b Mattis With, Junkfood, Marc Piñol, Dani Baughman.
PROGRAMACIÓN PARALELA
PRIMAVERA ALS BARS
BRUT
Lunes 28 de abril
La Maceta (Progrés, 38)
NICO ROIG
Martes 29 de abril
Absenta (Hospital, 75)
CENETAPH
Miércoles 30 de abril
Mama María (Aldana, 8)
MATRIMONIO
Viernes 2 de mayo
Black Velvet (Nou de la Rambla, 130)
4HIVERNS
Lunes 5 de mayo
Belushi's (Bergara, 3)
HIT THE ROBOT
Martes 6 de mayo
Café Royale (Nou de Zurbano, 3)
CARLA
Miércoles 7 de mayo
Gran Hotel Central (Via Laietana, 30)
MURNAU B
Jueves 8 de mayo
Minitea3 (Robador, 22)
WILLY TORNADO
Viernes 9 de mayo
Colibrí (Riera Alta, 33-35)
SUSAN'S
Sábado 10 de mayo
Chelas' & Burros (Nou de la Rambla, 44)
HANS LAGUNA
Lunes 12 de mayo
Resolis (Riera Baixa, 22)
JINKO VILOVA
Martes 13 de mayo
Lupita (Carretes, 48)
GERMÁN Y LA ALEGRÍA DEL BARRIO
Miércoles 14 de mayo
London Bar (Nou de la Rambla, 34)
CAUSTIC ROLL DAVE
Jueves 15 de mayo
Betty Ford (Joaquín Costa, 56)
AUSELLS
Viernes 16 de mayo
Summum (Aribau, 66)
LAS RUINAS
Lunes 19 de mayo
Jaleo (Ferlandina, 27)
LOST FILLS
Martes 20 de mayo
Freedonia (Lleialtat, 6)
STEVEN MUNAR
Miércoles 21 de mayo
Gipsy Lou (Ferlandina, 55)
BARBOTT
Jueves 22 de mayo
Oddland (Joaquín Costa, 52)
CATARATA
Viernes 23 de mayo
La Rouge (Rambla del Raval, 10)
LOCALIZACIONES
PARC DEL FÒRUM
Metro:
L4, Amarilla, El Maresme | Fòrum
Horario de Metro: 5:00 a 0:00, hasta las 2:00 los viernes y durante toda la noche del sábado
También:
T4 Tranvía
7, 36, 41, 43, 141 Buses
N6, N7 Nitbus
CIUTADELLA/ARC DE TRIOMF
L1 Roja, Arc de Triomf
SALA APOLO
L2, Morada, Paral·lel
L3, Verde, Paral·lel