2022 marca el regreso a los conciertos masivos al aire libre. Los carteles de festivales de indie vuelven con todas las propuestas que se han visto obligadas a cancelar los anteriores dos años. Por ello, la lucha festivalera promete ser más cruenta que nunca, con un mercado repleto de bandas ansiosas por hacer el circuito veraniego.
Aquí te dejamos los carteles y line ups completos con los últimos confirmados de los mejores festivales 2022 de rock e indie en España.
Si buscas info sobre festivales de 2023, aquí tienes los carteles de festivales 2023.
Tomavistas 2022
Alizzz
Biznaga
Cariño
Carolina Durante
Confeti De Odio
Confidence Man
Cupido
Hurray For The Riff Raff
Jarv Is…
Jungle
Kevin Morby
Kings Of Convenience
La Luz
La Plata
Kokoshca
Le Boom
Rigoberta Bandini
Rojuu
Rolling Blackouts Coastal Fever
Sen Senra
Shame
Slowdive
Suede
The Haunted Youth
The Marías Camellos
Yawners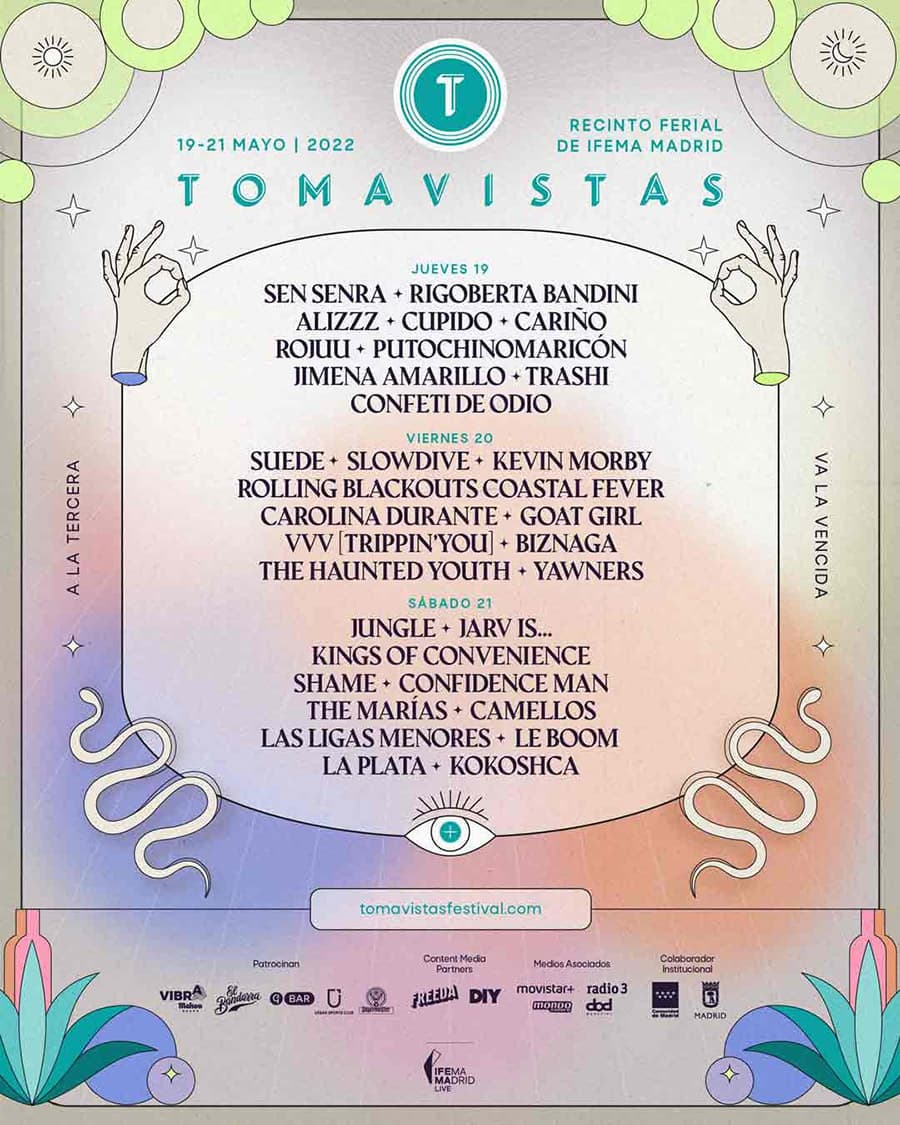 Primavera Sound 2022
Fin de semana 1
JUEVES 2 DE JUNIO
100 gecs / 33EMYBW / AFRODEUTSCHE / Bad Gyal / Beabadoobee / Big Freedia / Black Lips / Black Midi / C. Tangan / Call Super b2b Shanti Celeste / Carista / Carla / Carolina Durante / Charli XCX / D. Tiffany / Dinosaur Jr. / Dj Fra / DJ Shadow / El Mató a un Policía Motorizado / Faye Webster / Girl in Red / Hannah Diamond / Honey Dijon / Ivy Barkakati / Joan Shelley / Kacey Musgraves / Kampire & Decay: Bunu Pop / Kareem Ali / Kehlani / Kim Gordon / Les Savy Fav / Lingua Ignota / Mabel / Maria del Mar Bonet / Martha / Massive Attack / Napalm Death / Oklou / Otoboke Beaver / Pavement / Pelada / Pond / Rina Sawayama / Rodrigo Cuevas: Barbián / Rombo / Sharon Van Etten / Shygirl / Soto Asa / Tame Impala / The Armed / Turnstile / Verde Prato / VTSS Live / Yo la Tengo
VIERNES 2 DE JUNIO
Amaia / Aurora Halal Live / Autechre / Beach Bunny / Beck / Bikini Kill / Blawan / Brockhampton / Buttechno / Caribou / Cariño / Chaqueta de Chandal / CZN / Deena Abdelwahed Dj Set / Earl Sweatshirt / Envian Christ / Fontaines D.C. / Gabriela Richardson / Georgia / Helado Negro / Iosonouncane / Isabella / Jamie xx / Jamine Infiniti Live / Jeff Mills / Jehnny Beth / Jessica Pratt / Kano / Kaydy Cain / King GIzzard & the Lizard Wizard / Le Nais / Lightning Bolt / Litte Simz / Lorenzo Senni / Lory D / Mainline Magic Orchestra / Manel / Mano Le Tough / Mariah the Scientist / Marina Herlop / Mica Levi / Nídia / Oscar Mulero / Pabllo Vittar / Paloma Mami / Parquet Courts / Pinpilinpussies / Shellac / Stingray 313 Dj Set / The National / The Strokes / Tropical Fuck Storm / Vagina Dentata Organ / Violet / Weyes Blood / Young Maco / Za & LaTransMegaCobla
SÁBADO 4 DE JUNIO
ABBATH / Automatic / Bauhaus / Beach House / Ben Ufo / Biscuit / Black Country, New Road / Boy Harsher / Caroline Polachek / Die Katapult / DIIV / Disclosure / Dj Harvey / Dj Playero / Dreamcatcher / Duki / Einstürzende Neubaten / Enny / Fatima Yamaha / Ferran Palau / Gorillaz / Guineu / Idles / Jamila Woods / Jane Fitz / Jawbox / Jenny Hval / John T. Gast / Jorja Smith / Kamma & Masalo / King Krule / Las Ligas Menores / Lawrence le Doux / Leon Vynehall / Les Amazones d'Afrique / María José Llergo / Mavis Staples / Mecánica Popular / Nick Cave and The Bad Seeds / Noriscaa / Núria Graham / OM / Porridge Radio / Rapsody / Sangre Nueva / Shame / Slowthai / Squarepusher / Stingray 313 Live / Terrence Dixon Live / The Caretaker / Tim Burgess / Tyler, the Creator / ZoZo
Fin de semana 2
JUEVES 9 DE JUNIO
A.G. Cook / Agoraphobia / Alex Cameron / Anz / Ashnikko / Bad Gyal / Bicep / Big Thief / Bikökö / C. Tangana / Casero / Cazzu / Charli XCX / Cuban Doll / Dry Cleaning / Dua Lipa / Duma / El Mató a un Policía Motorizado / Future Utopia / Gabber Modus Operandi / Gilles Peterson / Gorillaz / Gracey / Griff / Haai / High on Fire / Holly Humberstone / India Jordan / Interpol / Jay Electronica / Jensen McRae / John Talabot / Khruangbin / King GIzzard & the Lizard Wizard / Mall Grab / Metronomy / Moonchild Sanelly / Mujeres / Ambarchi – Sprenger – Sollmann / Perfume / Pile / Playboi Carti / Prospa / Rata Negra / Slickback / Slowdive / Sofia Kourtessi Live / Sonido Tupinamba / Squid / Tarta Relena / Tyler, the Creator / Working Men's Club
VIERNES 10 DE JUNIO
Alizz / Amaarae / Apartamentos Acapulco / Black Coffee / Britanny Howard / Burna Boy / Cautious Clay / Clairo / CMAT / Connan Mockasin / Courtney Barnett / Danny L Harle / Dorian Electra / Efdemim / Erika de Casier / Giveon / Japanese Breakfast / Khea / LCY Live / Lorde / Maeve / Marco Shuttle / Marta Knight / Mary Anne Hobbs / Massive Attack / Menta / M.I.A / Nicola Cruz / Nueva Vulcano / Oli XL / Pa Salieu / Pangaea / Priya Ragu / Rigoberta Bandini / Run the Jewels / Sama' Abdulhadi / Sampa the Great / Senyawa / Special Interest / SPFDJ / Stein / Tarquim / The Jesus and Mary Chain / The Murder Capital / The Strokes / Tops / Triángulo de Amor Bizarro / Valentino Mora Live / Vladislav Delay / VTSS Dj Set / Wata Igarashi Live
SÁBADO 11 DE JUNIO
Phoenix / Acemoma Live / Acemoma Dj Set / Alanaire / Altin Gün / Angel Bat Dawid / Angèle / Antònia Font / Arooj Aftab / Celeste / Confeti de Odio / Courtesy Live / Craig Richards b2b Nicolas Lutz / Da Souza / Daniel Avery Live / Derby Motoreta's Burrito Kachimba / Dj Pastis / Dj Seinfield / Ela Minis / Fred Again.. / Gaahls Wyrd / Genesis Owusu / Goldie / Jessie Ware / Jorja Smith / King Princess / La Mafia del Amor / La Zowi / Logic1000 Live / Megan Thee Stallion / Mogwai / Molchat Doma / Namasenda / Nicki Nicole / Oranssi Pazuzu / Paranoid 1966 / Pond / Renaldo y Clara / Rolling Blackouts Costal Fever / Romy / Sad Night Dynamite / Sen Senra / Shellac / Sherelle b2b Tim Reaper / Sky Ferreira / Soleá Morente / Tainy / Tame Impala / The Weather Nation / Unai Muguruza / Viagra Boys / Yeah Yeah Yeahs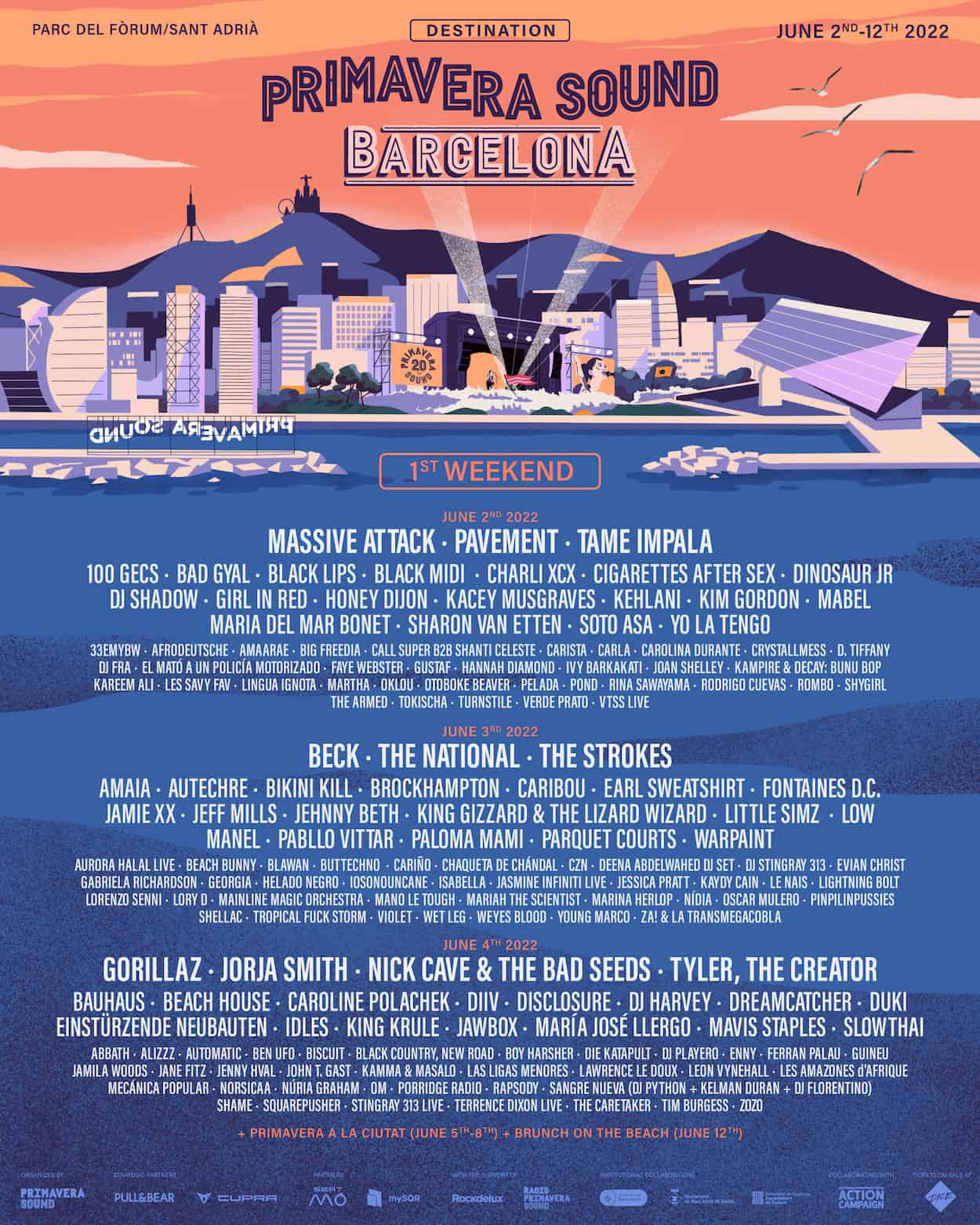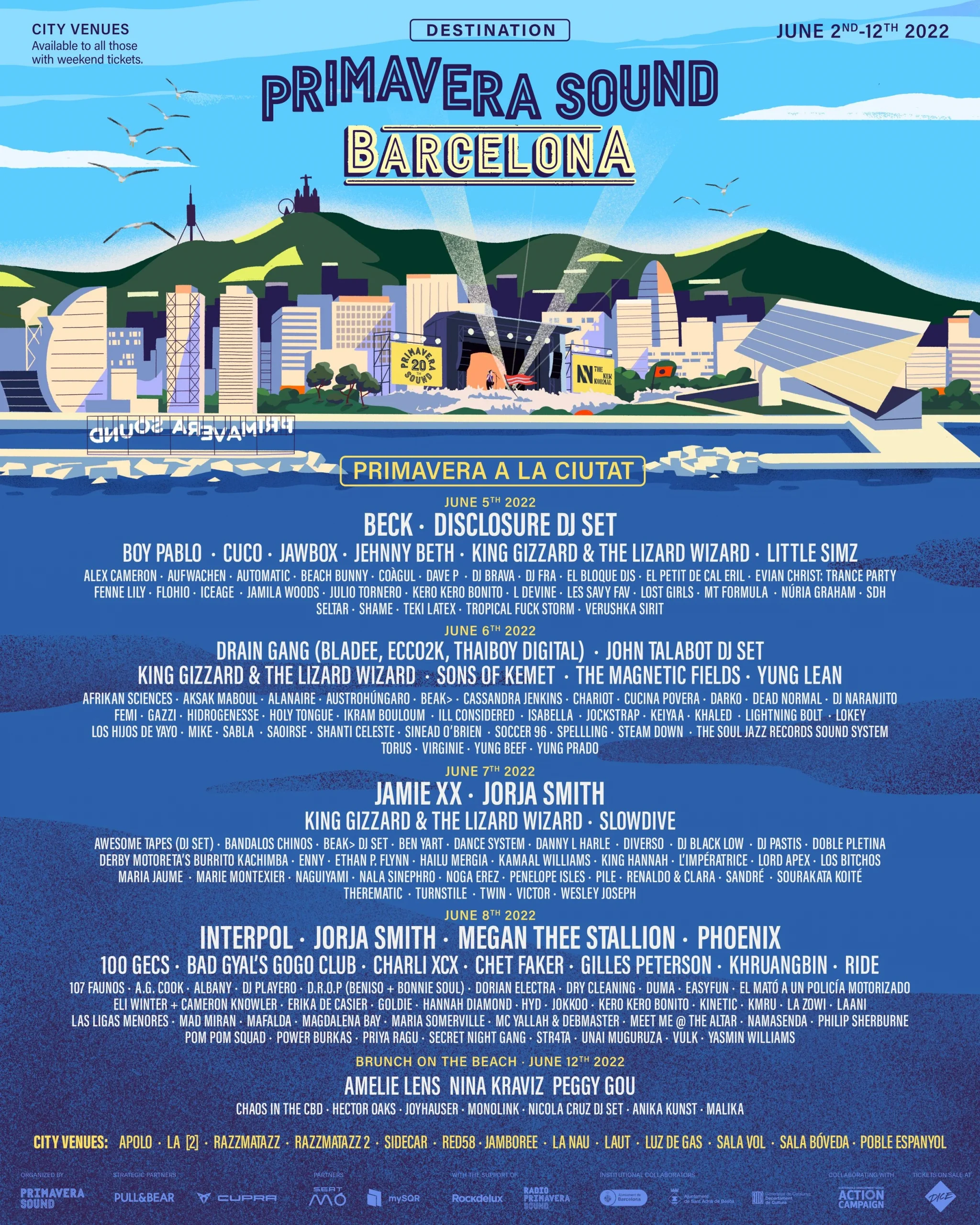 Sonar 2022
SÓNAR DE NOCHE – VIERNES 17 JUNIO 2022
Moderat (De)
The Blaze (Fr)
C.Tangana (Es)
Nathy Peluso (Ar)
Bonobo (Uk)
Headie One (Uk)
Richie Hawtin (Ca)
Agoria (Fr)
Skee Mask (De)
Anna (Br)
Herrensauna Xxl 6h Set (De)
Avalon Emerson (Us)
Jennifer Cardini B2b Perel (Fr/De)
Tiga And Hudson Mohawke Present Love Minus Zero (Ca/Uk)
Venus X (Us)
Poté Dj Set (Fr)
Or:La (Ie)
Critical Soundsystem (Uk)
Gazzi (Es)
Brava (Es)
Conducta (Uk)
Santos Bacana (Es)
Djohnston (Es)
SÓNAR DE NOCHE – SÁBADO 18 JUNIO 2022
The Chemical Brothers (Uk)
Eric Prydz (Se)
Arca (Ve)
The Blessed Madonna (Us)
Charlotte De Witte (Be)
Aj Tracey (Uk)
Helena Hauff (De)
Folamour: Power To The Ppl Av Show (Fr)
Joy Orbison (Uk)
Reinier Zonneveld Live (Nl)
Midland B2b Shanti Celeste (Uk)
Anfisa Letyago (It)
Kabza De Small X Dj Maphorisa (Scorpion Kings) 6h Set (Za)
Batu (Uk)
Nihiloxica (Ug)
La Fleur (Se)
Mbodj (Es)
Giant Swan (Uk)
Etm (Es)
Ehua (It)
Lucient (Es)
SÓNAR DE DÍA – JUEVES 16 JUNIO 2022
Oneohtrix Point Never (Us)
Pongo (Pt)
Paranoid London Live (Uk)
Sega Bodega (Uk)
Lafawndah (Fr)
Partiboi69 (Au)
Ms Nina (Es)
Jayda G (Ca)
Lady Shaka (Nz)
Coucou Chloe (Fr)
Chico Blanco (Es)
Rojuu (Es)
Uniiqu3 Live (Us)
Manara (Uk)
Tarta Relena (Es)
Simona (Ar)
Lechuga Zafiro (Uy)
B1n0 Live Av (Es)
Gela (Es)
Awwz (Es)
Depresión Sonora (Es)
SÓNAR DE DÍA – VIERNES 17 JUNIO 2022
Princess Nokia (Us)
Samantha Hudson: 'Liquidación Total' (Es)
Polo & Pan (Fr)
Niño De Elche + Ylia + Banda "La Valenciana": 'Concert De Músika Festera' (Es)
Lyra Pramuk – Echoluminescence (Us)
Eris Drew B2b Octo Octa (Us)
Lsdxoxo Live (Us)
Quayola/Seta – Transient Performance Presented By Me By Meliá (It)
Louisahhh Live (Fr)
Juicy Bae (Es)
Vvv [Trippin'you] (Es)
Scotch Rolex Ft. Mc Yallah & Lord Spikeheart (Jp/Ug)
Yung Singh B2b Suchi (Uk)
Ihhh & Desilence Live Av (Ar/Es/Dk)
El Bobe (Es)
Dj Marcelle / Another Nice Mess (Nl)
Albal B2b Rocío (Es)
Yugen Kala (Es)
Jamz Supernova (Uk)
Miret Live (Es)
Ivy Barkakati (Es)
SÓNAR DE DÍA – SÁBADO 18 JUNIO 2022
Overmono Live (Uk)
Serpentwithfeet (Us)
Morad (Es)
Jyoty (Uk)
Vegyn (Uk)
Kiddy Smile (Fr)
Dj Python (Us)
Tomm¥ €A$H (Ee)
For Those I Love (Uk)
Nu Genea Live Band (It)
Maria Arnal I Marcel Bagés Presentan 'Hiperutopia' (Es)
Pedro Vian & Mana (Es/It)
Mori, Rusowsky (Es)
Locoplaya (Es)
Eli Keszler (Us)
La Chica (Fr/Ve)
Recycled J (Es)
'Uncompressed' With Hainbach, Look Mum No Computer And Cuckoo Presented By Patreon (De/Uk/Se)
Virginie (Es)
Umami B2b Crks290 (Es)
Airaboi (Es)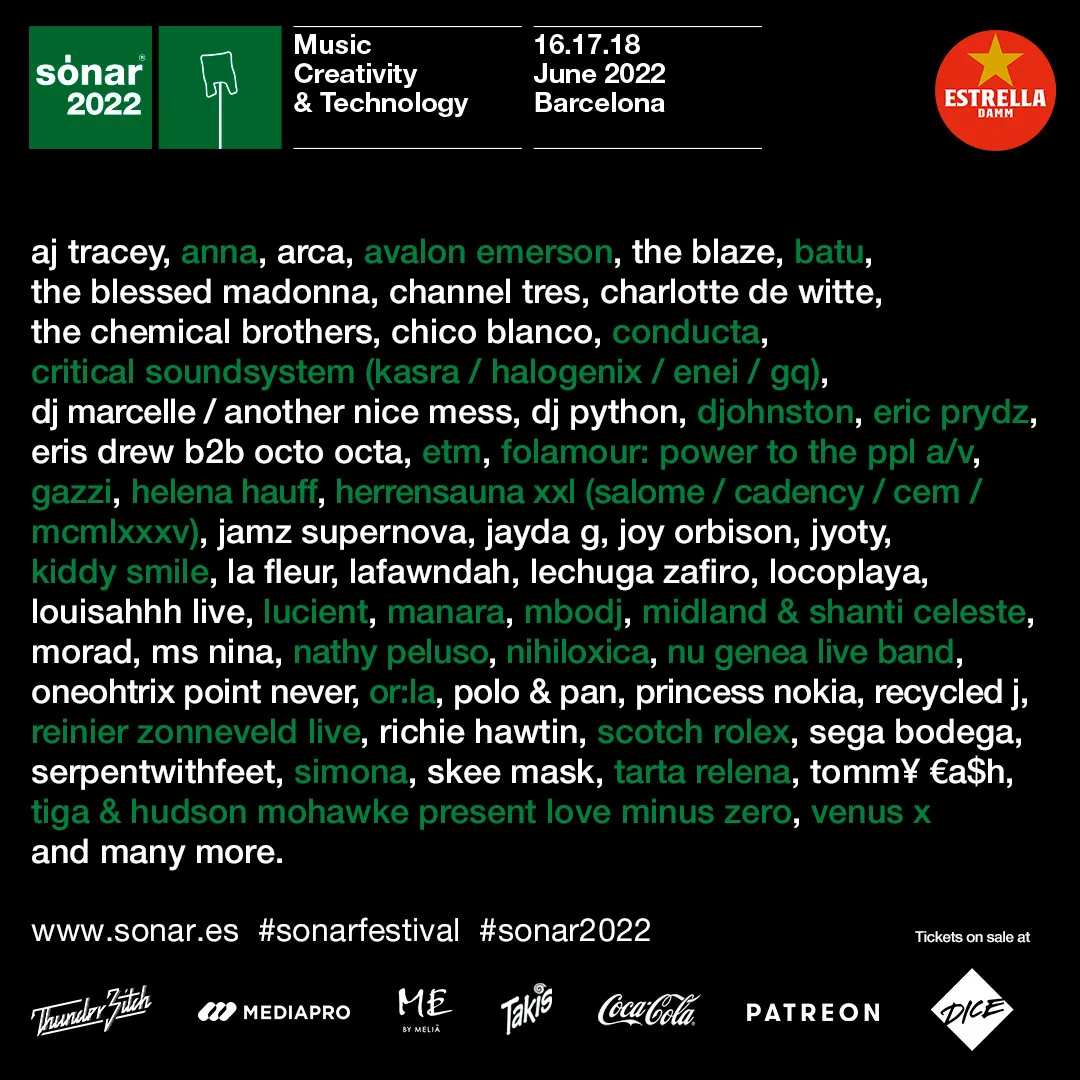 Azkena Rock Festival 2022
Adia Victoria
Black Mountain
Chuck Prophet And The Mission Express
Daniel Romano's Outfit
Delirium Tremens
Dewolff
Dirty Honey
Drive-By Truckers
Emmylou Harris
Fu Manchu 30th Anniversary
Hiss Golden Messenger
Ilegales
Israel Nash
Jerry Cantrell
Joseba Irazoki Eta Lagunak
Klingonz
La Perra Blanco
Life Of Agony
Lovesick Duo
Mad Sin
Messer Chups
Michael Monroe
Morgan
Morgan Wade
Negra Cucaracha Terrorfolk
Nukore
Oh! Gunquit
Patti Smith And Band
Robyn Hitchcock & Los Del Huevos Band
Ryley Walker
Social Distortion
Soziedad Alkoholika
Suicide Generation
Suzi Quatro
The Afghan Whigs
The Faithless
The Offspring
The Toy Dolls
Tiburona
Vulk
Wicked Wizzard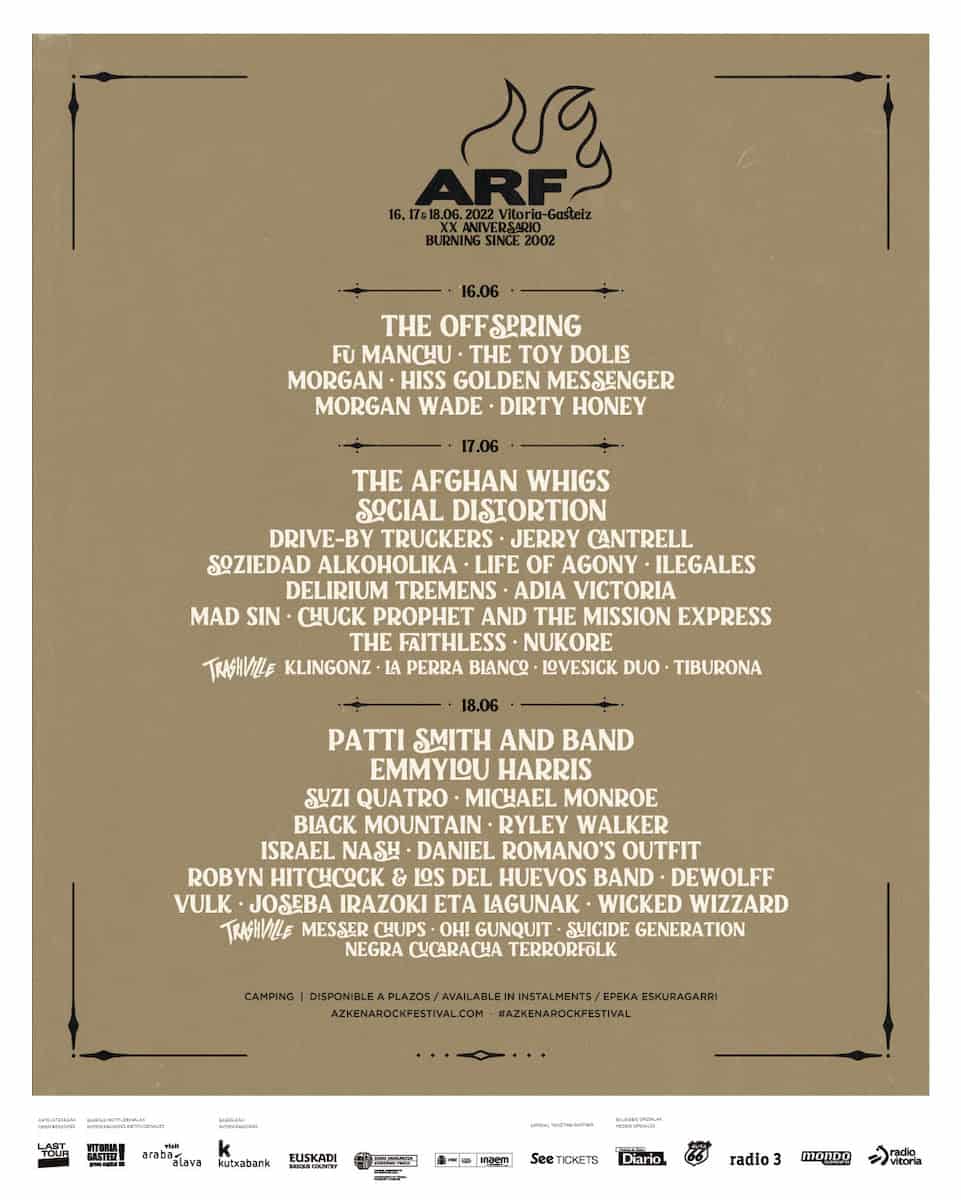 Resurrection Fest 2022
Avenged Sevenfold
KoRn
Judas Priest – 50 years
Deftones
Sabaton
Bring Me The Horizon
Rise Against
Opeth
Bullet For My Valentine
Heaven Shall Burn
Sepultura
Jinjer
Crossfaith
Madball
Dark Funeral
Raised Fist
Amenra
Rise of the Northstar
Bloodbath
Decapitated
Me And That Man
Lionheart
Sylosis
Knocked Loose
Toundra
Angelus Apatrida
Alien Weaponry
Caliban
Hamlet
Doyle
Vomitory
Morning Again
Moscow Death Brigade
Spiritbox
Eskimo Callboy
Neaera
Employed To Serve
Dagoba
Beyond The Black
And So I Watch You From Afar
Enforced
Planet of Zeus
Infected Rain
The Picturebooks
Belvedere
Torche
My Sleeping Karma
Dead Label
Our Hollow, Our Home
Master Boot Record
As Everything Unfolds
Serrabulho
Bleed From Within
La Armada
Deadly Apples
Misconduct
Svalbard
Benighted
Celeste
Blowfuse
El Altar del Holocausto
Regarde Les Hommes Tomber
Gaerea
Skunk D.F.
Ruxe Ruxe
Vita Imana
Onza
True Mountains
Adrift
Free City
Numen
Skontra
Aphonnic
Thirteen Bled Promises
Sound of Silence
Chris Masuak & The Viveiro Wave Riders Association
Willis Drummond
Frutería Toñi
Blaze Out
Lèpoka
Bloodhunter
Bolu2 Death
Golpe Radikal
Bonecarver
The Broken Horizon
Graveyard
Eon
Mind Driller
Mosh
Green Desert Water
Fuzz Forward
Totengott
Bourbon
Acid Proyect
Broken Lingerie
Sharon Stoner
Kids of Rage
The Dry Mouths
We Exist Even Dead
Elephant Riders
Kaleikia
Grima
Machina
Arsian
Wasted Wiltons
Turbo Kraks
Blaze The Trail
Leaving Mars
Me Fritos & The Gimme Cheetos
Seek 'Em All
Bulls On Parade
Banderanegra DJs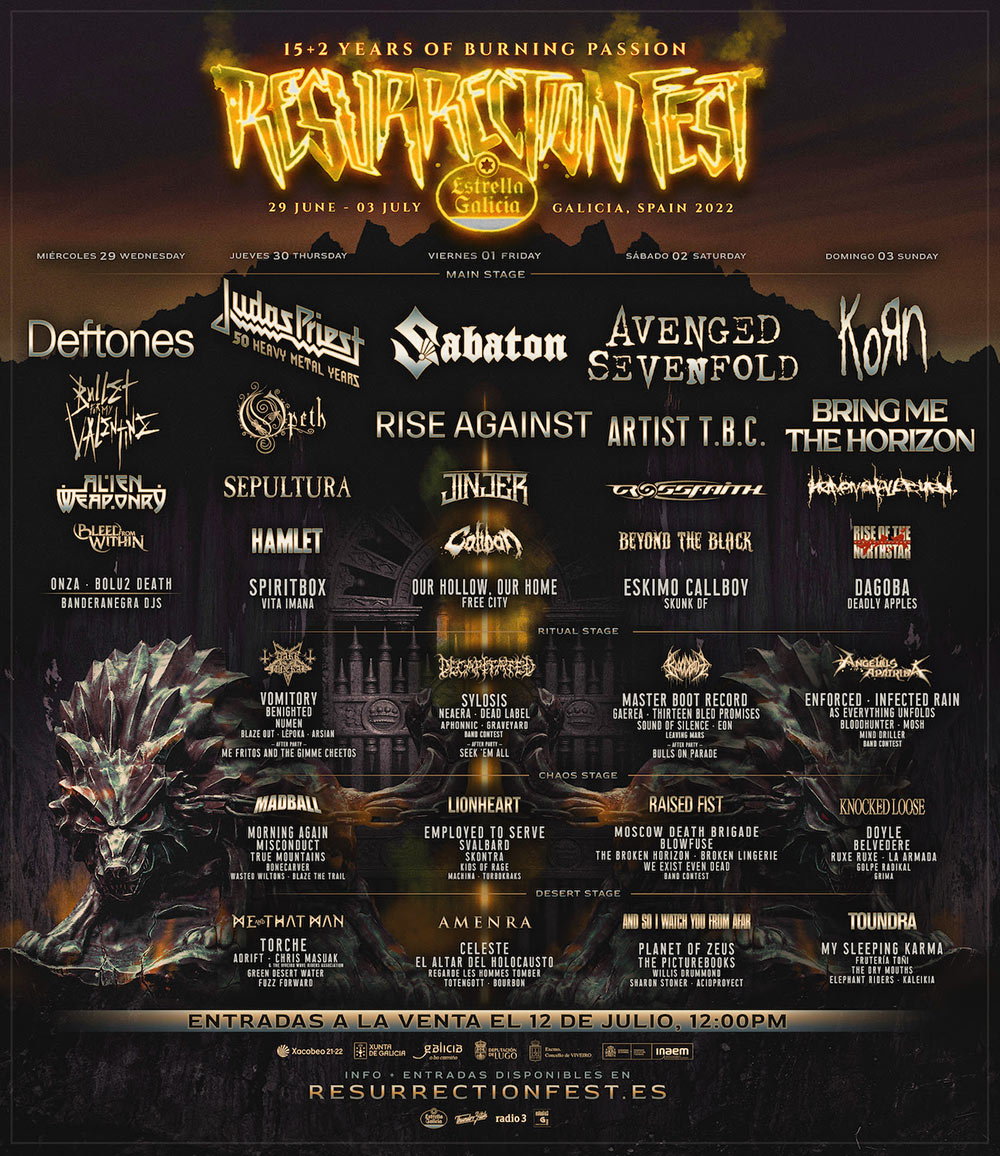 Mad Cool 2022
LCD Soundsystem
J Balvin
Stromae
Moderat
The Killers
Pet Shop Boys
Placebo
Caribou
Four Tet
BICEP
M.I.A.
Phoebe Bridgers
Nathy Peluso
Bomba Estéreo
Supergrass
slowthai
Joy Crookes
Planningtorock
Toronto
BADBADNOTGOOD
Peaches
Inhaler
TOMM¥ €A$H
Stella Donnelly
Mykki Blanco
Moses Sumney
Zahara
Nacho Vegas
Dorian
Lori Meyers
Sen Senra
Carolina Durante
Ginebras
Rusowsky
Confeti de odio
VVV [Trippin'you]
Laura Sam &Juan Esribano
Chill Mafia
Verde Prato
Nøgen
Ezpalak
DouleurDolor
The Blessed Madonna
Carl Craig
Helena Hauff
Lena Willikens
John Talabot
Palms Trax
DJ Python
Eris Drew
JASSS
Dave P
Decius
Identified Patient
GAZZI
ISAbella
Perel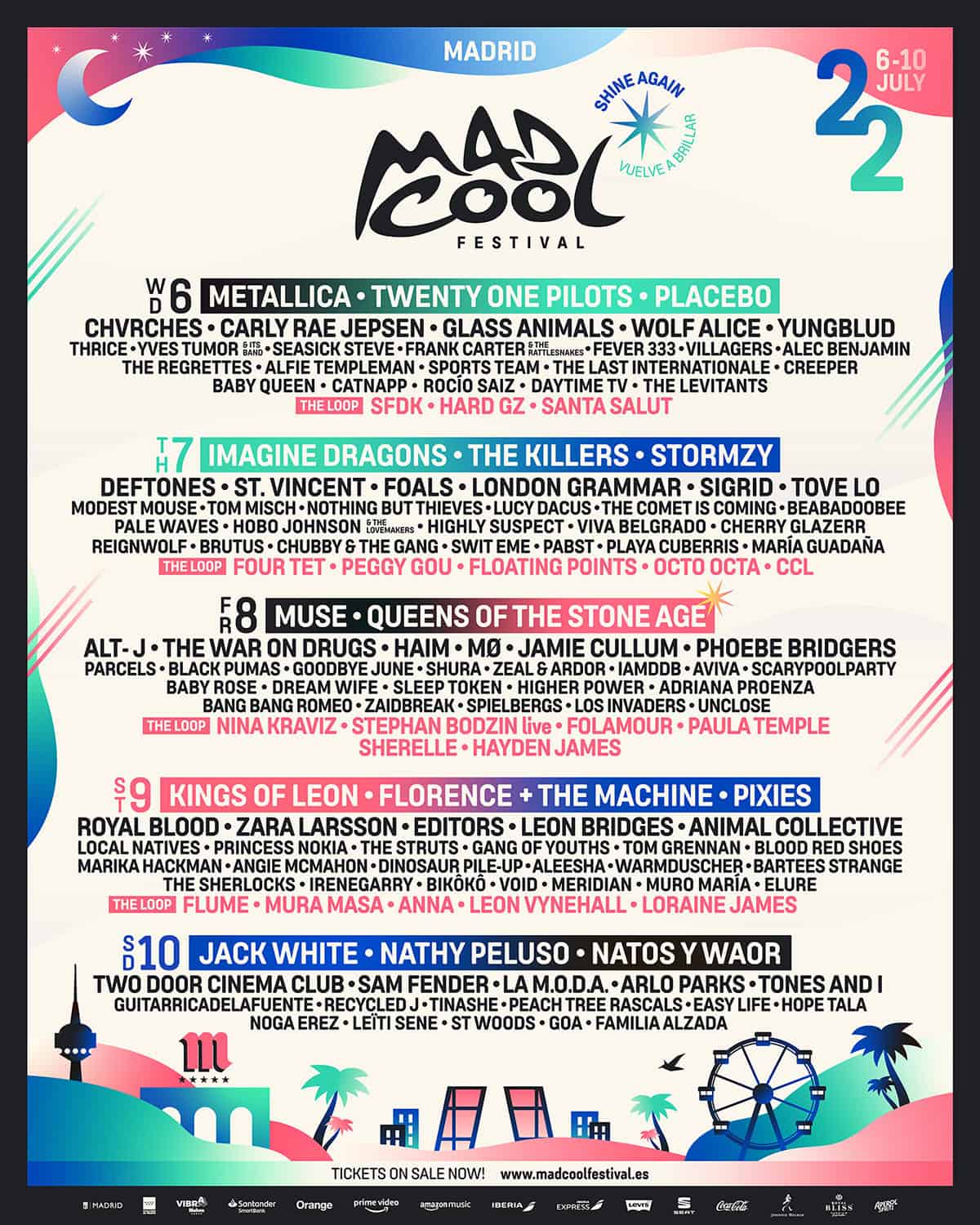 Bilbao BBK Live 2022
Badbadnotgood
Bicep Live
Bomba Estéreo
Caribou
Carl Craig
Carolina Durante
Chill Mafia
Confeti De Odio
Dave P
Decius
Dj Python
Dorian
Douleurdolor
Eris Drew
Ezpalak
Four Tet
Gazzi
Ginebras
Helena Hauff
Identified Patient
Inhaler
Isabella
J Balvin
Jasss
John Talabot
Joy Crookes
Laura Sam Y Juan Escribano
Lcd Soundsystem
Lena Willikens
Lori Meyers
M.I.A
Moderat
Moses Sumney
Mykki Blanco
Nacho Vegas
Nathy Peluso
Nøgen
Palms Trax
Peaches
Perel
Pet Shop Boys
Phoebe Bridgers
Placebo
Planningtorock
Rusowsky
Sen Senra
Slowthai
Stella Donnelly
Stromae
Supergrass
The Blessed Madonna
The Killers
Tomm¥ €A$H
Verde Prato
Vvv [Trippin' You]
Zahara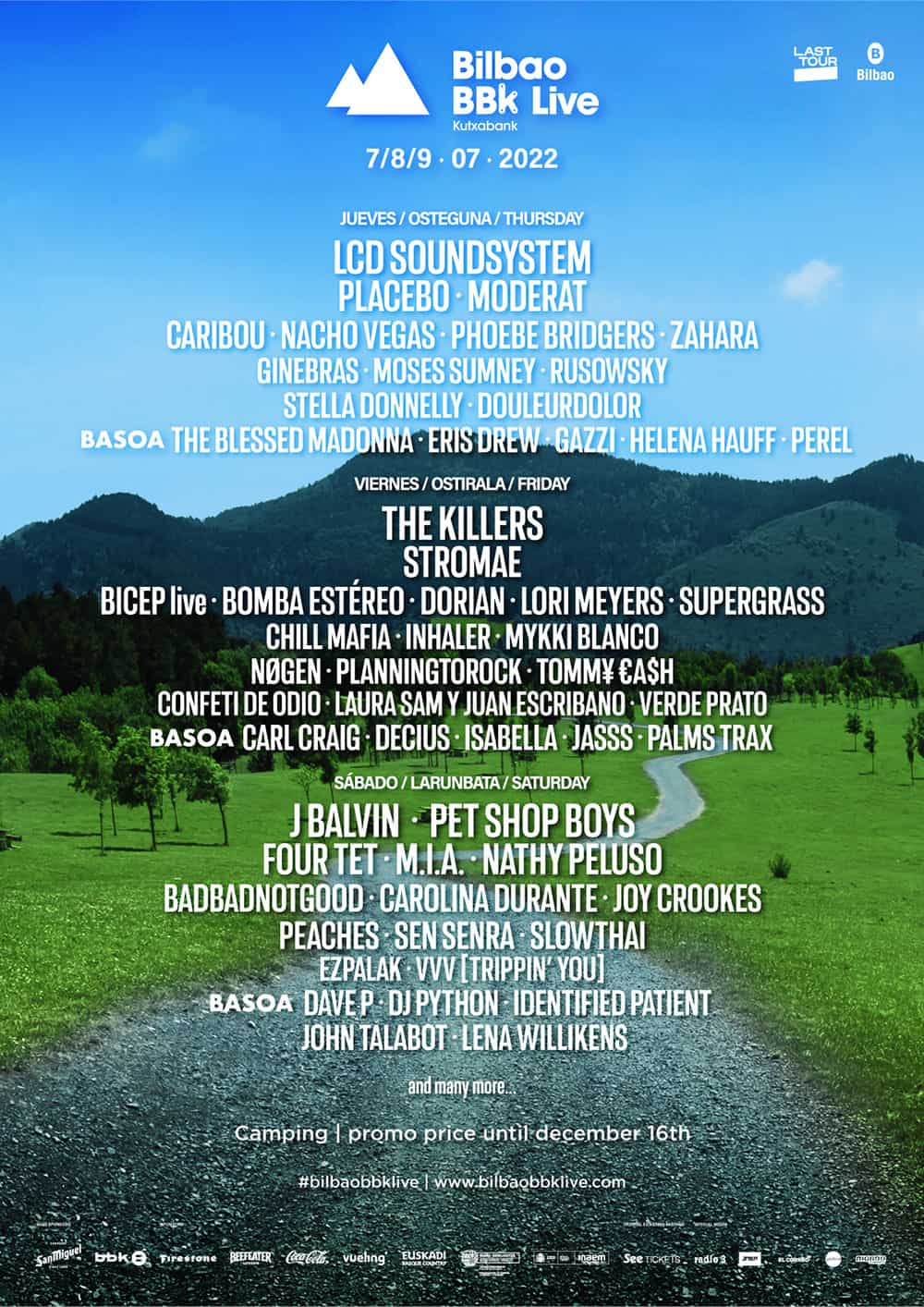 Canela Party 2022
King Gizzard & The Lizard Wizard
Battles
Dan Deacon
Deerhoof
PUP
Preoccupations
Metz
Torres
Bejo
Carolina Durante
Baiuca
Perro
Lysistrata
Camellos
Ghum
Los Estanques
Mini Trees
Rata Negra
RAYO
Bronquio
Medalla
Ty Segall & Freedom Band
Parquesvr
Chaqueta de chandal
Los Manises
airbag (ES)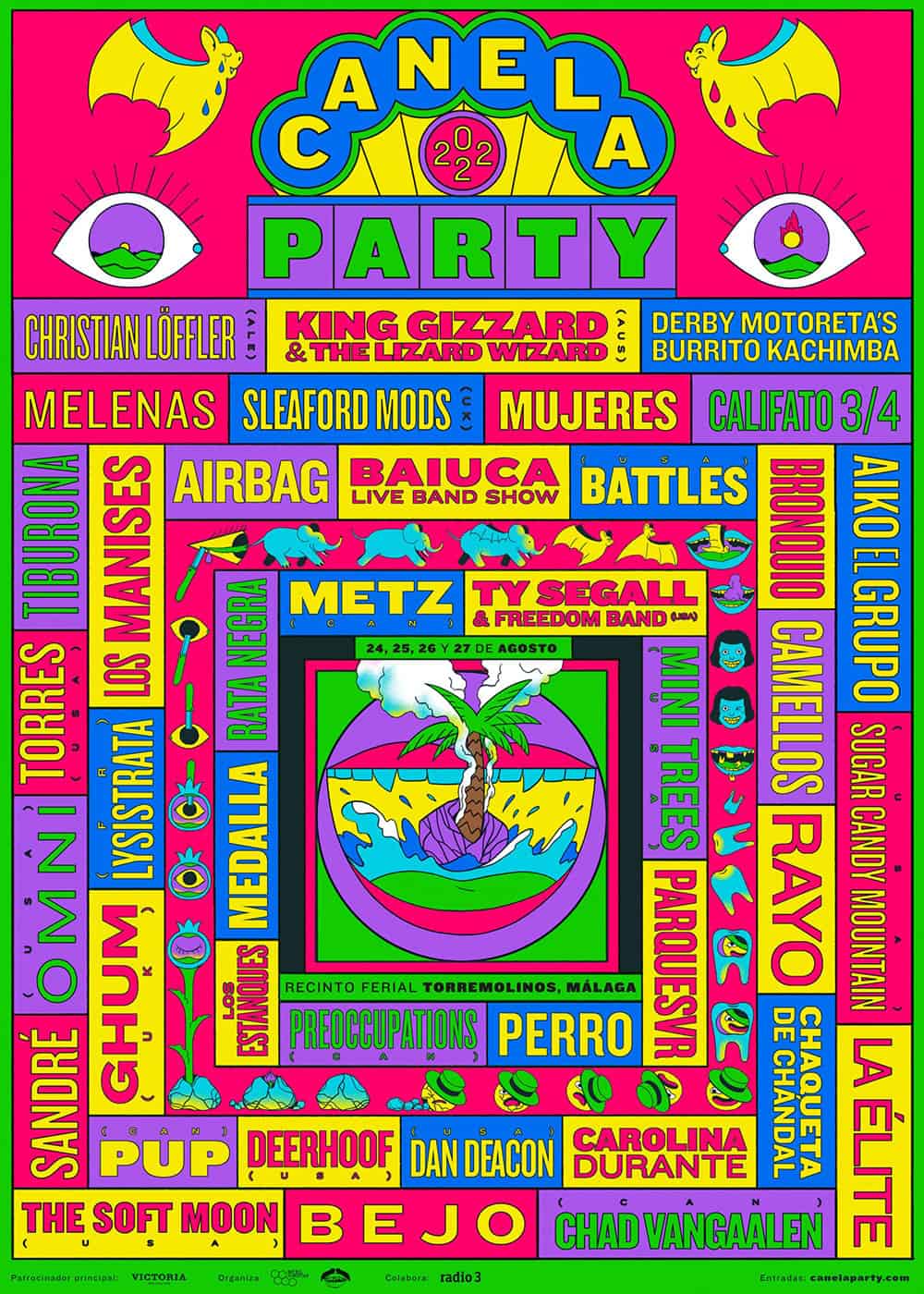 Cala Mijas 2022
Albany
Alice Phoebe Lou
Arctic Monkeys
Blossoms
Bomba Estéreo
Bonobo
Charlotte Adigéry & Bolis Pupul
Chet Faker
Chico Blanco
El Columpio Asesino
Fuel Fandango
Gazzi
Hnos Munoz
Hot Chip
Inhaler
James Blake
Kraftwerk
La Trinidad
León Benavente
Liam Gallagher
Love Of Lesbian
Marc Rebillet
Meute
Nathy Peluso
Queralt Lahoz
Röyksopp
Róisín Murphy
Rusowsky
Santa Salut
Sen Senra
Soulwax
The Chemical Brothers
The Lathums
Uniforms
Venturi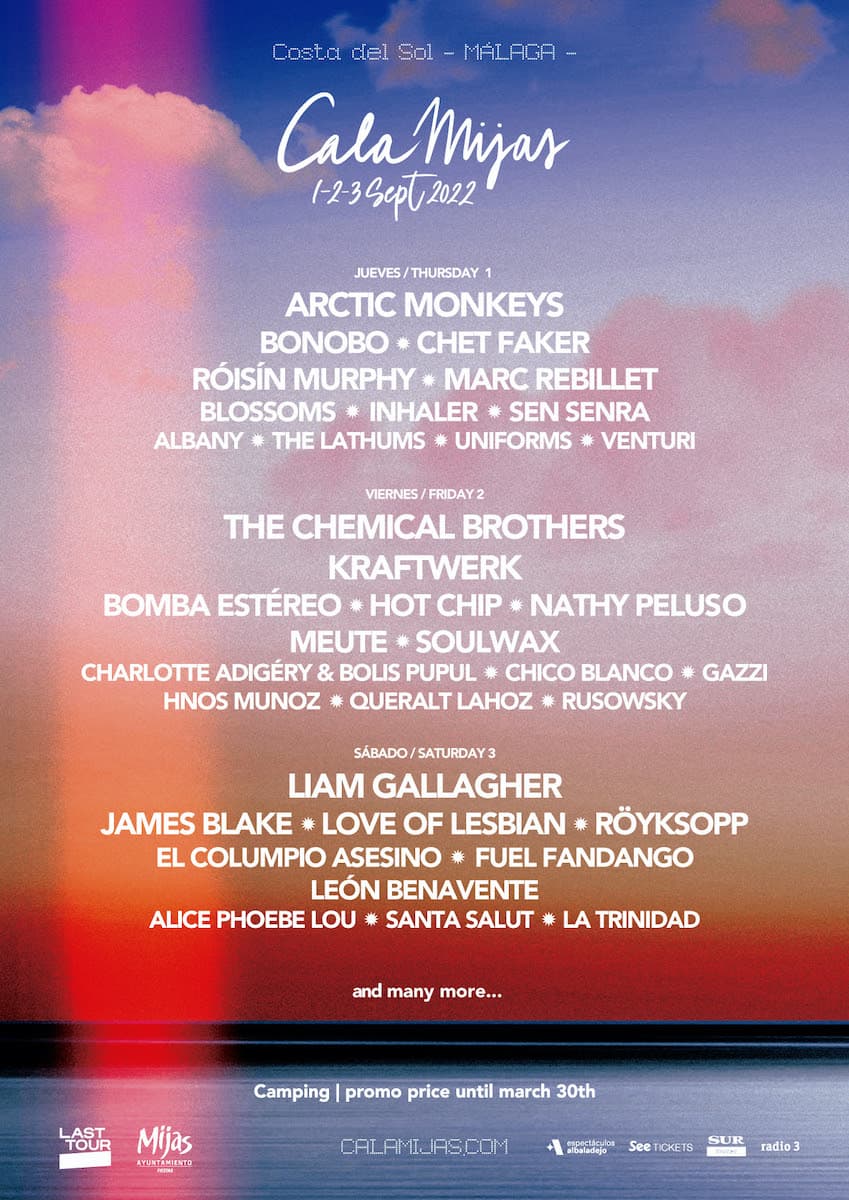 BIG Festival 2022
Muse
Jamiroquai
Vetusta Morla
Biffy Clyro
Years & Years
Michael Kiwanuka
Paolo Nutini
Stereophonics
Run The Jewels
Los Planetas
Kurt Vile
Kevin Morby
091
Lucy Dacus
Los Zigarros
Sports Team
Yard Act
Morgan
Nova Twins
Wargasm
Life
Niña Coyote Eta Chico Tornado
Sylvie Kreusch
The Dip
Goa
Ghouljaboy

MAD Cool Sunset 2022
Rage Against The Machine
Biffy Clyro
Glass Animals
Stereophonics
Run The Jewels
Kurt Vile & The Violators
Lucy Dacus
Los Zigarros
Belako
Sports Team
Yard Act
Wargasm
Nova Twins
Montell Fish
Life
Sylvie Kreusch & The Dip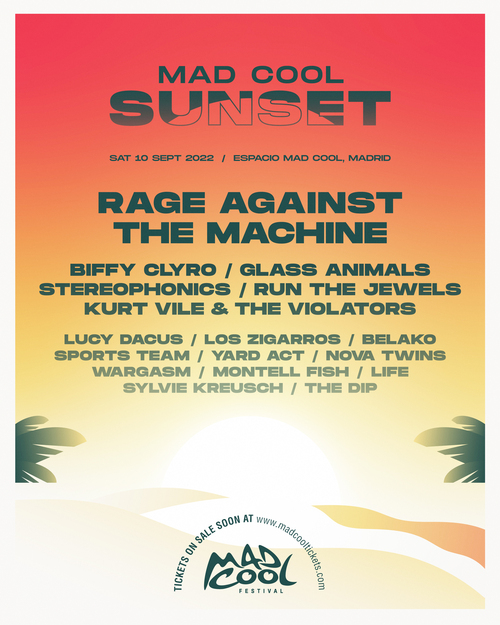 AMFest 2022
Cult of Luna
Elder
Caspian
Pallbearer
Oranssi Pazuzu
DobleCapa
Irist
Holy Fawn
Aiming for Enrike
Godspeed You! Black Emperor
Anna Von Hausswolff
Midwife
Deafheaven
Carpenter Brut
Lingua Ignota
Tricot
Foxtails
Slow Crush
Maud The Moth
Nara Is Neus
Svalbarduk
Meat Puppets
Za!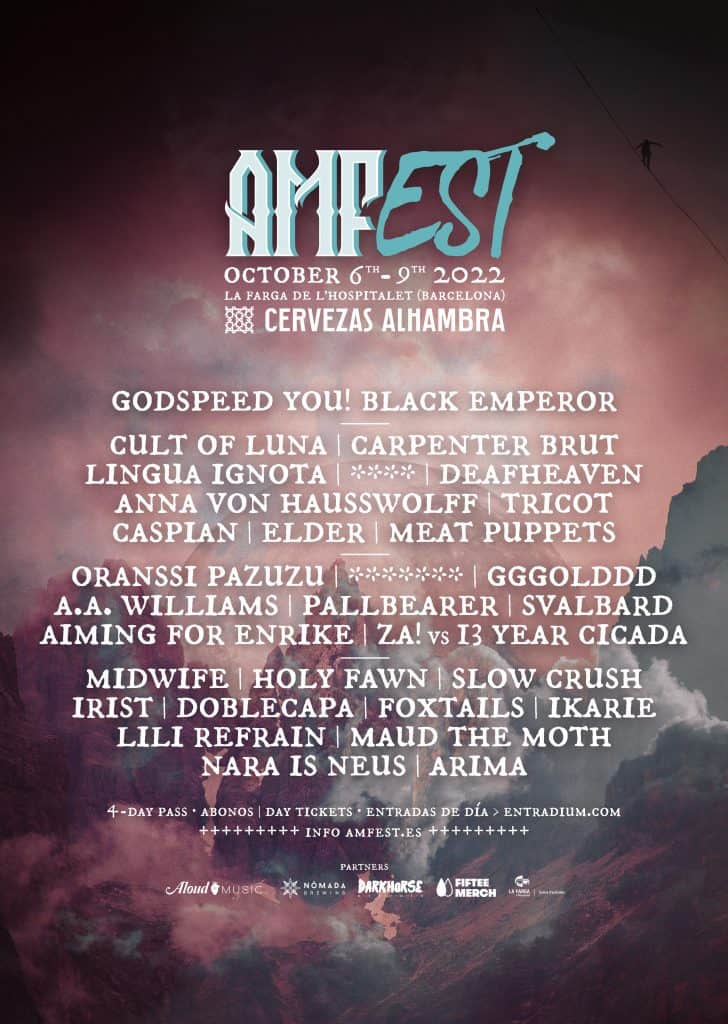 Ya ves que la oferta de festivales de indie y de rock en España es variada y este 2022 viene cargada de grandes nombres. Haz tu elección y recuerda, sobre todo lo importante es que apoyes el circuito de salas y bares durante el año.